Simenona Martinez Alex Cross Interview
Simenona Martinez Alex Cross Interview
Poised to become her big break into Hollywood's elite, Simenona Martinez is delighted to announce her starring role in Rob Cohen's upcoming movie, 'Alex Cross'.
Due for worldwide release, Martinez stars alongside Tyler Perry and Matthew Fox in her role of Pop Pop Jones, a young woman in prison. Undergoing a dramatic transformation in order to fit the character's attributes, Martinez took on Jones' persona by cutting her hair and changing her eye colour.
In fact, while playing a hard-nosed criminal, viewers may find Martinez an unrecognisable world away from her household status as a bubbly Disney Channel personality.
While a fresh face on the movie screen, Martinez has a proven and well-established background. With a powerful voice and an upcoming album, her fans will get to see a new side to her entertainment arsenal. With a career that initially launched her own show on the Disney Channel, 'Behind the Ears', many will recognise Martinez from a series of public service announcements that she wrote and directed.
More information on Simenona Martinez can be found on her official website: www.simenonamartinez.com
Alex Cross
Cast:  Tyler Perry, Matthew Fox, Rachel Nichols, Simenona Martinez
Director: Rob Cohen
Genre: Crime, Mystery, Thriller
Rated: M
Running Time: 101 minutes
Synopsis: A detective is told that a member of his family has been murdered. He vows to track down the killer.
Release Date: November 8th, 2012
Interview with Simenona Martinez
Question:    Can you tell us about Alex Cross?
Simenona Martinez:    Alex Cross is a brilliant piece of work from the author, James Patterson, to the Director, Rob Cohen, to the awesome cast of actors: Tyler Perry, Matthew Fox, Cicely Tyson, Jean Reno, Edward Burns, John C McGinley, Rachel Nichols, and everyone involved in the film. It was a great script, and a very interesting film, and I was honoured to work alongside everyone!
Question:    Had you read the books by James Patterson before auditioning for the role?
Simenona Martinez:    No, unfortunately I hadn't read the James Patterson novels before auditioning for the role. However, I am familiar with the movie franchise.
Question:    How would you describe your character, Pop Pop Jones?
Simenona Martinez:    Pop Pop Jones is like many people in some ways… she is tough on the outside, but on the inside, she is caring and understanding. She is a criminal because she was a product of her environment. She was raised around violence, so that is all she knew. She is very intelligent, so she is the type of character that is intriguing because although she is a "bad guy," she also has a softer, likeable side.
Question:    What transformations did you need to make to take on the role?
Simenona Martinez:    I made some major transformations for this role. I cut my hair. This is the shortest my hair has been in years. I also changed my eye colour. Beyond the physical aspects, I had to make major personality adjustments to play a criminal. This role is very far from who I am in real life!
Question:   Was it difficult to change your hair and Disney Channel persona for the role?
Simenona Martinez:    It was difficult in a sense, but, as an actress I live for this type of challenge. I think every actor wants to challenge themselves by stepping out of their comfort zone. It isn't fun playing the same types of roles over and over again. I've always admired actors and actresses who are able to play a variety of characters with different personalities and completely different identities.
Question:    What research did you do, to take on the persona of Pop Pop Jones?
Simenona Martinez:    I really watched a lot of prison documentaries. I love documentary films, and this role gave me the chance to watch more. I wanted to truly embody not only a criminal like Pop Pop, but a criminal who was no longer on the streets. I think sometimes there is a big difference between a criminal on the streets and one behind bars because the ones behind bars often do a lot of inner reflection.
Question:    What was it like working with Rob Cohen?
Simenona Martinez:    Working with Rob was great. He is amazing! It is enjoyable working with an artist like Rob who truly has a vision for his film. I think he is one of the greatest action film directors of our generation, and I would love to work with him again!
Question:    What was the most memorable moment on set, for you?
Simenona Martinez:    The most memorable moment for me was meeting Tyler Perry. I have been a fan of his work for quite some time, and I truly admire the success he has had in this industry. He is a great actor, and was really fun to work with, as well. All of my scenes were with him, so it was very cool getting to work so closely with one of the biggest names in Hollywood. One moment in particular was when we were shooting the scene in the courtyard and he could tell I was a little nervous and he told me "Don't doubt yourself." I will remember that forever. He is kind and very patient. He did an amazing job and is an incredible actor.
Question:    How does it feel to watch yourself, on the big screen?
Simenona Martinez:    Believe it or not, I am actually quite shy about seeing myself on screen. I'm thrilled to be a part of the filmmaking process, and proud of my work, but I still find it hard to watch myself! I am just thankful that God has given me the opportunity to do what I love to do.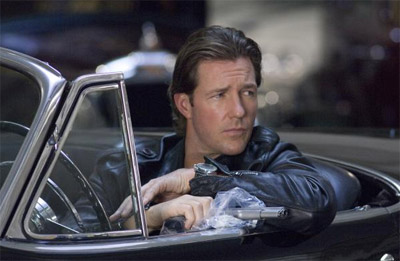 Question:    Do you have a preference between performing for film or television?
Simenona Martinez:    I really have no preference when it comes to film or television. I love to act, and I think it is more about the project and the role than where it is being shown. I am happy with roles on the big screen and the small screen. At the end of my career I just want to look back and see a variety of roles and projects that I can be proud of.
Question:    What or who originally inspired you to begin acting?
Simenona Martinez:    I wanted to be an actress ever since I was a little girl. I always enjoyed acting because it gave me the opportunity to escape reality for a moment. Even as a young child I loved the idea of acting because it gives you the opportunity to tell stories and provide an escape from the real world for viewers. Life is very stressful, so film and television gives people an outlet whereby they can relax and take their minds off of their problems for a short while, and I love being a part of that.
Question:    What's next for you?
Simenona Martinez:    I am also a singer/songwriter, so recently I've been in the studio working on some new songs. I have always had a passion for music as well as acting, so I am lucky enough to be able to pursue both of those passions. I am also currently working on a memoir to help share my struggles and inspire others; and of course more acting is on the horizon, as well.
Question:    Can you talk about the importance behind your charity work?
Simenona Martinez:    I think it is very important for everyone to give something back to the community, whether it is donating time, money, or lending a helping hand to those in need, I think we all have a responsibility to help those who are less fortunate. I want to be successful in life for that very reason. The more we have, the more we can give to others. I believe that helping people is one of the greatest joys in life.
Interview by Brooke Hunter